How does Enrolo assist training organizations?
Enrolo is ideal for training organizations that want to deliver courses that build knowledge, with the support of qualified trainers, in a secure online environment.
For certified training Enrolo sets the benchmark for  high integrity measures.
In the race to get training online the need for tools that help assessors is often overlooked yet this is the most important aspect of improving online training efficiency and reducing training costs.
We have assisted many training organisations make the leap from in-class to digital online or blended learning solutions.  We can also assist people to move from a legacy training system that no longer meets their needs.
We offer full setup up, implementation or migration services including a full end to end ecommerce platform.
If training organisations use 100% computer automated assessment (such as true/false or multiple choice) they are missing the opportunity to leverage the knowledge, value and insights of that which assessors can provide. Read more 
Enrolo's augmented, free text auto assessment tools, eliminate the mundane marking of free text assessment and allows trainers to target their efforts on helping students that need their assistance.
Example: Below is a screen capture of Enrolo's trainer interface for an auto marked free text response;
Please note the following:
Assessor notes on how to mark the question
The attempt number of the student, time and date
The student's typed "Essay Response"
Sentences that are recognised by the automarker underlined in green
A configurable score based on the evidence above
A feedback drop down that can be configured with canned responses for common issues students have answering this question.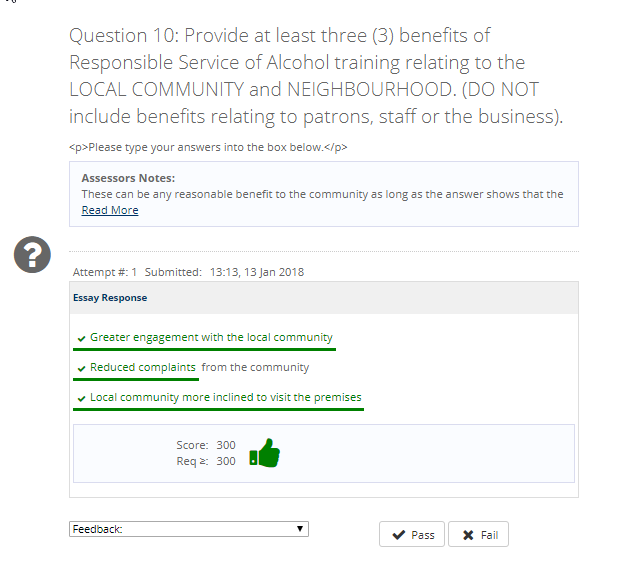 In the above example the student answered the question correctly, the automarker gave a score of 300/300.  Enrolo provides a scientific method for turning on 100% auto marking, in this case however the trainer would need to review the results and click the "Pass" or "Fail" button.
You can add as many users with the Enrolo trainer role as you wish and then allocate each trainer to as many of your courses as you like.
Trainers will then have access to marking queues based on the courses assigned to them.
How can Enrolo help with Enrolment
Not surprisingly a core feature of Enrolo is Enrolment.  Training organisations can create and manage their own enrolment process such as name, address, upload valid photo ID, other details. Alternatively, Enrolo offers a managed service for validating photo identification against residential addresses and checking accuracy of enrolment details.
Note: For use in Australia, Enrolo offers an Australian Vocational Education and Training Management Information Statistical Standard (AVETMISS) compliant enrolment process.  This includes validating a  Unique Student Identifier (USI) through Enrolo's API linked to the Australian government's database. 
How can Enrolo help with skills assessment online?
Enrolo allows trainers to build mobile device compatible video assessment questions.  These assessment questions require the student to video themselves undertaking a task that is required for a skills component of a course.
Like the augmented free text assessment queue, the videos submitted by students are assigned to associated trainers marking queues.
Trainers can view the videos whilst reviewing assessor notes and then provide feedback via canned response or custom text.
These responses can be viewed by the student when they are attempting their next video recording of their demonstration of skills.
Students tell us that they like taking video assessment of their skills and Enrolo has successfully received over 10,000 videos for assessments from a broad range of devices.
An example of Enrolo's video demonstration of skills feature was presented by the Enrolo team at Demo Fest in Las Vegas in 2017 at Devlearn and was highly regarded by participants.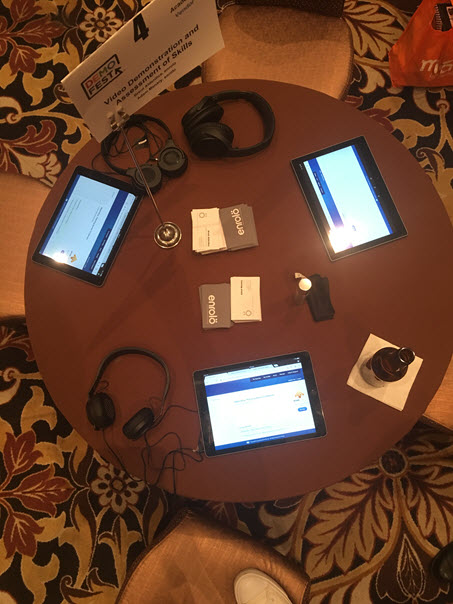 How can Enrolo help with after hours phone support?
Enrolo offers training providers the option to allow students to request after hours phone support call backs from trainers. Enrolo can be configured to add and then nominate the trainer on duty, who will then receive text requests for support. This reduces wait times and administration so that trainers can investigate cases, provide email response or call students back when they are available.
Can I easily build training using Enrolo?
Enrolo offers a simple 12 step process to get up to speed and your training online right away.  No technical or prior elearning skills are needed.  Enrolo is not a tool for creating course content, it is a tool for building course workflows and robust assessments then delivering training to students online.  Course content can be imported from MS PowerPoint or a course package can be imported from a range of third party authoring tools such as Articulate Storyline (contact us for a quote).  If you have large volumes of content to migrate online contact us with details and we will provide a quote to assist you.
Can I sell courses online or manually Enrol students?
Enrolo has your online sales process covered with the option of either; a hosted shop and payment gateway for selling your courses online from your own website or, if you are taking payments via another process such as invoices, you can use manual enrolment or the XLS bulk import method to enrol students.
Can I demonstrate compliance during audits with data and reports from Enrolo?
Enrolo captures rich data from all trainer and assessor interactions including:
history of active learning time
history of all assessment attempts
number of attempts
assessor feedback
This data can be exported by training administrators to zipped XLS files and downloaded for further analysis.
For the more technical:  An Application Programming Interface (API) is available for more sophisticated integrations between Enrolo and other legacy student management or reporting systems.
The reputation of a training organization and the training certificates it issues can be proven in Enrolo by empirical data that proves that a student has demonstrated the knowledge and/or skills required to achieve competency in a unit of competency.   Enrolo's management reports or XLS exports provide you with visibility of this data during an audit.
Many learning management systems are based on a Sharable Content Object Reference Model (SCORM) which is a technical software protocol that allows mobility of, for example, assessments between systems.  The disadvantage of  SCORM mobility is that it reduces the quality and depth of the data that can be effectively captured.  Enrolo has a built-in assessment tool and this allows Enrolo to capture a lot more assessment data.  Enrolo also captures all of the communication between trainers and students and is more in line with the "Experience API" or  XAPI  protocol.
Can Enrolo deliver 100% online diplomas or government approved training?
Business Mamas is using Enrolo to deliver a Diploma of Business
Aged Care Training Services are delivering Certificate IV in Ageing & Support as well as Leisure and Health
eLearning Portal is delivering a Certificate in Provide Responsible Service of Alcohol 
5 Star Hospitality Training is delivering a Certificate in Food Safety Supervision
Enrolo assisted our Registered Training Organisation (RTO) attain a 7 year accreditation with the Australian Skills Quality Authority (ASQA) in its first year of audit.  This was in part due to Enrolo's commitment to provide robust  online integrity measures. – 2018 Megan Ruffino, RTO Compliance Manager
Click here for more testimonials