About Enrolo
---
What is Enrolo?
Enrolo is a one stop solution you or your clients can use to get online training in the hands of learners fast. Elearning product or service providers can brand Enrolo as their own, then embed their offering and sell the online package as a 'ready to train' solution.  Enrolo is a carbon neutral online learning environment.
How old is Enrolo?
Enrolo has been tested in various training environments since 2010 and was launched at Devlearn in Las Vegas in 2017.
Why Enrolo?
We built Enrolo after working with training providers that were frustrated by the over complexity of training systems and also because there were real gaps in the tools for ecommerce and features to reduce training administration costs. Because we focused on quality learning and assessment these features are now at the core of enorlo and our main competitive advantage.
Why does Enrolo have partners?
Whilst enrolo is a one stop shop many clients still like to use third party authoring tools. Along the way we got to use many third party tools to build quality elearning and we have formed partnerships with those that excel in their field and work seamlessly in Enrolo.
We are always looking for new innovative products and services that we can offer our clients through a partnership arrangement so if you have a leading and innovative product  please contact us.
Providers of specialist elearining tools often  say that they can only sell their services to clients that already have a learning platform in place.  These providers can use the white label version of enrolo to package and sell their products as a ready to go solution.
Enrolo values
The Enrolo network does not cost the earth because we use responsible banking, ethical superannuation, 100% renewable power, and we offset our remaining carbon by planting trees and encouraging biodiversity.  Enrolo is the worlds first carbon neutral learning platform.
We support community through the Great Forest National Park initiative.
Taking Action on Climate Change
---
Carbon Neutral
Carbon offset
We are passionate about looking after the environment so we became Australia's first carbon neutral training provider. None of our bank account or superannuation funds are invested in coal. We do not have a physical office or any motor vehicles nor do we fly to visit clients we use zoom.  Our servers are all carbon neutral offset in the secure data centre.
---
Powershop
100% renewable wind and solar power

100% of electricity used in eLearning Portals offices comes from either wind or solar generated power supplied by Powershop. When the grid goes down, we have a mobile solar panel and a backup battery power supply that runs our router, laptops and phone system. If you would like $50 off to switch to Powershop please click here and request a Powershop referral.
---
Australian Ethical
Ethical superannuation

Our default employee superannuation scheme is Australian Ethical which only invests in ethical non fossil fuel related industries.
---
Ethical Paper
Sustainable paper products

We have taken the Ethical Paper pledge. We only buy ethical paper that is from Forest Stewardship Council (FSC) certified sources i.e. NOT Reflex copy paper which comes from critically endangered species habitat.
---
Great Forest National Park
A new national park for Melbourne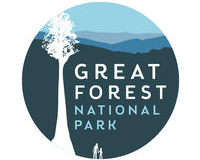 We are proud supporters of the Great Forest National Park initiative  and will be working with other supporters including leading universities on developing an educational programme for the park.
---